Award for Hermetic-Pump GmbH: "Russian oil and gas industries' best centrifugal-pump manufacturer for 2013"
HERMETIC-Pumpen GmbH, located in the Black Forest town of Gundelfingen near Freiburg, was recognised with the "Russian oil and gas industries' best centrifugal-pump manufacturer for 2013" award during the NefteGas- Pererabotka conference for Russian refineries. The award was presented recently in Moscow and is the result of an independent survey involving 60 Russian refineries.
The requirements for pumps used in refineries are high: Toxic or hazardous media are frequently conveyed. The slightest spark could have catastrophic consequences. As a result, the highest demands on safety apply in this sector, these being formulated as standards and regulations. With the API (American Petroleum Institute) standards, for instance, requirements for leakproof (hermetically-sealed) pumps, such as canned motor pumps, are precisely set out (API 685 standard). The standard of quality, safety and on-site customer support of HERMETIC has now been recognised with an award by Russian refineries.
HERMETIC canned motor pumps are designed for extreme conditions. The technology involved offers reliable safety against all types of leakage of the liquids being conveyed. This technology has become increasingly popular in refineries worldwide, as a second hermetically-sealed containment shell offers reliable protection against any leakage of the pumps. Also, the canned motor design (which has been wellestablished for decades) completely avoids the need for shaft seals, conventional bearings and couplings. The result is: a high level of operation reliability, hardly any wear and, consequently, a high MTBR ("Mean Time Between Repairs") value.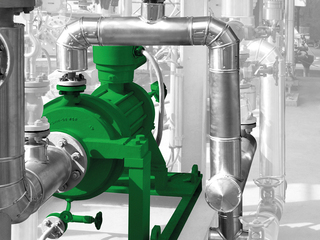 Canned motor pump according to API685; type: CNPF 100x25x350
HERMETIC has for decades been supplying renowned refineries in Germany and overseas with pumps from the CNP (single-stage hydraulics, according to API 610) and CAM (multi-stage hydraulics) series.
Russia, with its huge fossil fuel resources, is, in particular, a large, but at the same time demanding, market. Special certifications (e.g. GOST R, Gospromnadzor, TR, Rostechnadzor, etc.) apply. In addition, extreme conditions, with outdoor temperatures as low as minus 60 degrees Celsius and operating temperatures in excess of 300 degrees Celsius, have to be reliably catered for. When conventional technologies reach their limits, HERMETIC pumps are always brought into action. High system pressures, large temperature fluctuations, media that is extremely difficult to convey – HERMETIC pumps have been developed precisely for such demanding conditions.

Profile of HERMETIC-Pumpen GmbH
HERMETIC-Pumpen GmbH, based in the German town of Gundelfingen (near Freiburg), is a world leader in the area of sealless pumps. The company employs around 440 people in Germany.
HERMETIC pumps are used in the chemical industry, as well as in the oil and gas industries. They are also used in the industrial refrigeration industry and at solar thermal power plants. In 2012, HERMETIC delivered the world's largest and most powerful canned motor pump. Over 200,000 HERMETIC pumps have hitherto been deployed worldwide for the most demanding conveying applications.
Founded in 1866 and based in Freiburg for many years under the name LEDERLE Pumpen- und Maschinenfabrik, the globally-active company relocated to Gundelfingen, near Freiburg, in 1977. With the subsidiary HERMETIC-Pumps Inc., USA, the company has its own service and logistics centre in North America. To enable the Asia-Pacific markets to be covered, HERMETIC has opened a plant and service workshops in China. A comprehensive consultation and service network for providing customer support is available in over 50 states.
Gundelfingen, Germany, January 2014