Award for HERMETIC-Pumpen GmbH: "Russian Oil and Gas Industry's best Centrifugal Pump Manufacturer for 2014"
Russian refineries have honoured HERMETIC once more with an award for their standard of quality, safety, reliability and on-site customer support. On the occasion of the Neftegaz 2014 in Moscow, an independent survey by the Russian Ministry of Energy selected HERMETIC-Pumpen GmbH as the Russian oil and gas industry's best centrifugal pump manufacturer for 2014. This is a confirmation of winning this award already in 2013.
Russia's government and extractive industries are working intensively on the exploration and development of new oil and gas reserves. The focus of Russian gas production is on regions in East Siberia with untouched discoveries, while oil development concentrates on new areas in the far east of the country. Discovered raw materials are recovered, processed and transported under toughest conditions – for man and machine.
Due to the special design of canned motor pumps without failure-prone shaft seals, couplings and conventional bearings, these pumps are especially suited for challenging operating conditions – criteria that are of great importance for the operator. With the renewed award, the operators demonstrate their quest for greater efficiency, sustainability and safety.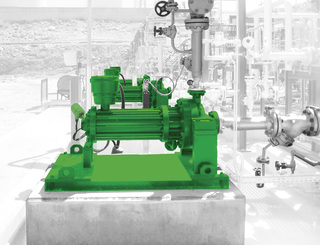 Canned Motor Pump according to API685, type CNPF 80x40x320
The refinery industry relies on canned motor pumps by HERMETIC for modernising ageing refineries. However, customised pump solutions and standard pumps are also deployed in new projects. From single-stage canned motor pumps of series CNP (according to API 685) for conveying liquid gas, to submersible pumps for cryogenic pumped media or custom canned motor pumps for use in pipelines, the customer finds the required and reliable solution in the pump portfolio of HERMETIC.

Profile of HERMETIC-Pumpen GmbH
HERMETIC-Pumpen GmbH, based in the German town of Gundelfingen (near Freiburg), is a world leader in the area of sealless pumps. The company employs around 440 people in Germany. HERMETIC pumps are used in the chemical industry, as well as in the oil and gas industries. They are also used in the industrial refrigeration industry and at solar thermal power plants. Over 250,000 HERMETIC pumps have hitherto been deployed worldwide for the most demanding conveying applications.
Gundelfingen, Germany, 12. January 2015