Canned motor pumps with high availability
In process plant technology, centrifugal pumps are among the most common machines. Great importance is attached to their operational reliability and functional efficiency. In view of the difficulties and especially the costs associated with the maintenance of mechanical seals, plant designers and operators have increasingly recognised the advantages of the canned motor pump.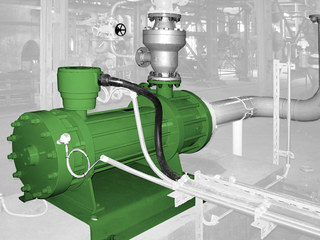 HERMETIC canned motor pump type CAM60/2
In practice, it has been found that hermetic pumps are generally less susceptible to repairs than conventional chemical pumps with mechanical seals and thus have a longer service life. As such, in addition to absolute leak tightness and high reliability, hermetic pumps offer the further advantage of minimal maintenance combined with high availability.
Hermetic centrifugal pumps have distinguished themselves not only by increased reliability and availability, but also by lower life cycle costs compared to conventional chemical pumps with mechanical seals (MS).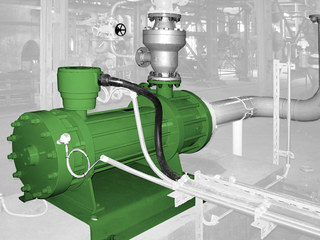 HERMETIC Spaltrohrmotorpumpe Typ CAM60/2
In der Praxis hat sich gezeigt, dass hermetische Pumpen in der Regel weniger reparaturanfällig sind als konventionelle Chemienormpumpen mit Gleitringdichtungen und somit höhere Standzeiten aufweisen. Somit bieten hermetische Pumpen, neben der absoluten Dichtheit und höheren Sicherheit, zusätzlich den Vorteil minimaler Wartung bei gleichzeitig hoher Verfügbarkeit.
Hermetische Kreiselpumpen haben sich nicht nur durch erhöhte Zuverlässigkeit und Verfügbarkeit, sondern auch durch niedrigere Lebenszykluskosten gegenüber konventionelle Chemienormpumpen mit Gleitringdichtung (GLRD) ausgezeichnet.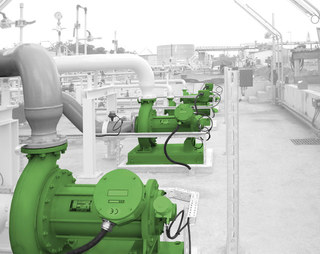 HERMETIC Spaltrohrmotorpumpe Typ CNF 125–400
Preferred fields of application for hermetic pumps
Canned motor pumps are preferred in the chemical and petrochemical industry, but also for simple pumping tasks, such as circulating pumps in industrial refrigeration equipment.
In general, the following media are conveyed: aggressive, toxic, explosive, hot, cryogenic, malodorous, volatile, flammable or carcinogenic substances – in brief, media that represent an environmental and health hazard.
---
Function of a canned motor pump type CNF
Function of a canned motor pump type CAM
Function of a canned motor pump type CAM-Tandem
Advantages of canned motor pumps at a glance:
Absolute leak tightness to the outside. Canned motor pumps meet the highest environmental protection standards.
Double containment shell to the atmosphere. The motor housing and terminal box are designed as pressure-containing parts and as a second containment shell.
Extremely low sound level
ZART® technology ensures non-contact, wear-free operation of the rotor unit
Practically no wear and minimal maintenance
High availability and long service life
Reduced maintenance and low life cycle costs
Higher MTBF values compared to conventional chemical pumps with mechanical seal
Easy installation, no alignment of motor and coupling required