Canned motor pumps to API 685 for reliable and economical use in the petrochemical industry
In refineries and petrochemical plants, centrifugal pumps are among the most common machines. Great importance is attached to their operational reliability and functional efficiency. In view of the difficulties and especially the costs associated with the maintenance of mechanical seals, plant designers and operators have increasingly recognised the advantages of the canned motor pump.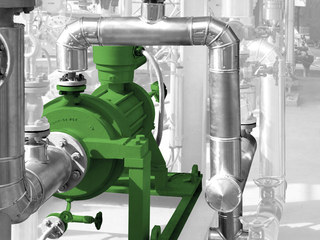 HERMETIC canned motor pump type CNPF 100x25x350
In practice, it has been found that hermetic pumps are generally less susceptible to repairs than conventional chemical pumps with mechanical seals and thus have a longer service life. As such, in addition to absolute leak tightness and high reliability, hermetic pumps offer the further advantage of minimal maintenance combined with high availability. API 685, which was introduced in the year 2000, is a specification that standardises the use of sealless centrifugal pumps in refineries and the petrochemical industry: API 685 – Sealless Centrifugal Pumps for Petroleum, Heavy Duty Chemical and Gas Industry Services.
HERMETIC canned motor pump type CNPFV 80x40x290
Requirements for pump technology
Canned motor pumps in accordance with API 685 are used wherever no leakage is allowed and the highest demands are placed on reliability and availability; especially when conveying toxic, explosive and generally environmentally harmful media.
Learn more about the canned motor pump in accordance with API in our white paper.
---
For attractive 3D representation of the various canned motor pumps and their characteristic functional principles go to our media platform.
Go to 3D Animations
---
Fields of application
Sealless pumping technology according to API 685 is ideally suited to the following conveying tasks:
Deadly fluids (lethal service)
Toxic media and substances harmful to health
Flammable, explosive substances
Carcinogenic substances
Transport of hot and cold substances (–120°C to + 450°C)
High vapour and system pressures
Go to Products