Important standards and regulations concerning water pumps in traction converters for the railway industry
Overview of CLC/TS 50537-3
In this brochure, you will find important information on the standard CLC/TS 50537-3 relating to water pumps for cooling traction inverters in the railway industry using the LC pump series as an example.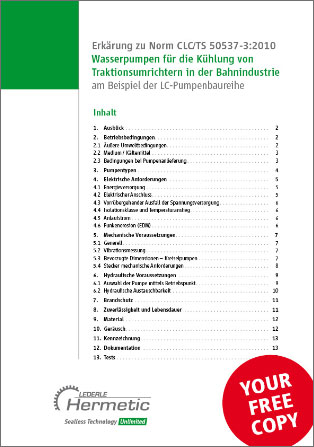 ---
Our LC pumps are designed according to CLC/TS 50537-3. Our pumps are characterised by an outstanding MTBF > 130,000 h and their low weight.
---
LC pump – technical data
| | |
| --- | --- |
| Delivery rate (50 Hz) | up to 19.2 m3/h (up to 320 l/min) |
| Pumping head (50 Hz) | up to 38 m |
| Motor output | 1.0 kW to 3.0 kW |
| Nominal pressure | 10 bar |
| Operating temperature | –40 °C to +80 °C |
| Weight | < 42 kg |
| Noise level (50 Hz / 60 Hz) | < 68 dB |
| Type of protection (motor) | IP 66 |
| Corrosion protection (paintwork) | up to C5 |
| Fire protection (paintwork) | R1 and R7 for HL1, HL2 and HL3 |